Principal's note

Dear students and parents,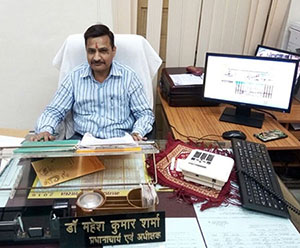 Welcome to Government Autonomous Ayurveda College, Gwalior (MP) which has been started with a vision to achieve global excellence in medical academics. Ayurveda origin dates back to the Vedic era, but its principles are not only still existing but also proliferating till today. So far rendering qualitative facilities to the mankind in the field of medical science. The Govt. Autonomous Ayurveda College, Gwalior was established in the year 1916. With the increasing demand for an alternative to the existing modern medicine system, the traditional system of Indian medicine; Ayurveda, has started gaining prominence in India due to its suitability to the human body. Ayurveda is holistic system of medicine with an individual oriented approach. Government Autonomous Ayurveda College, Gwalior one of the oldest and premiere institute imparting the Ayurveda knowledge and contributing to the society by providing quality.
We at Government Autonomous Ayurveda College, Gwalior enable our young minds to have the intelligence, talent and potential to become the most successful people in the world. The Government Autonomous Ayurveda College, Gwalior possesses the necessary know how to spruce up our future professionals, sharpen their abilities and actualize their potential. In order to achieve our top most agenda i.e. 'Proud to be medical professional' the college is making every effort to provide a sound foundation in the medical field to its students so that they can contribute towards better and healthier tomorrow.
As a principal, I take this opportunity to invite you to join our endeavor in shaping the bright future for medical world and solicit participation form all those who are concerned and associated with the sustainable development. To learn more about us you can always browse or visit our campus where I will personally be there to welcome you.
With best wishes.
DR. MAHESH KUMAR SHARMA
Principal